An evening with John McKinnon & David Mahon
About this Event
Join two distinguished New Zealanders with unmatched credentials and experiences present their perspectives on our relationship with China.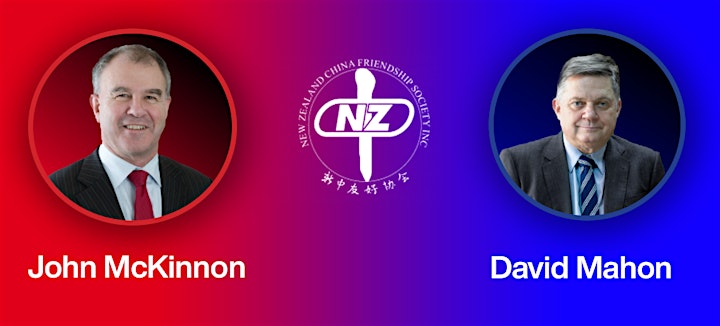 OUR SPEAKERS
John McKinnon has served twice as New Zealand Ambassador to China; the first from 2001 to 2004, the second from 2015 to 2018. He also held senior posts in Washington and New York and is a former Secretary of Defence.
David Mahon joined the New Zealand China Friendship Society in the 1970s. He has made his home in Beijing since 1984 where he became a friend of Rewi Alley. As Chairman of Mahon China Investments, he is a sought-after advisor on China to business leaders, public servants, and politicians in New Zealand and around the globe.
Evening moderated by George Andrews.
Registration is essential as seating is limited.
About New Zealand China Friendship Society:
Video – One Promise
The New Zealand China Friendship Society was established in 1952. We have almost 70 years experience working with China. Our society has a strong reputation, relationships, and contacts with China. We nurture people-to-people links, which are developed through sister-city and sister-school programmes, other friendship associations.
Auckland Branch:
The Auckland Branch (then known as the China Friendship Association) was founded in 1952.
Branch meetings are held regularly in Auckland CBD
A monthly newsletter is published which details current activities
Regular banquets, welcoming Chinese visitors, film or culture – there's much to love!