DON'T PANIC MISS MUFFET!
Published on June 6, 2019 THE SPINOFF
Taking a longer-term view of developments in the China market would help everyone's stress levels, writes Stephen Jacobi.*
These are tense times for trade. The ongoing US-China trade war makes everyone (even me) nervous. So when news broke that the Chinese government wished to see 60% of the infant formula market controlled by Chinese companies within three years, markets reacted swiftly as shares of A2 Milk Corporation sharply dropped.
But nervous analysts worried about the future Chinese market for Kiwi milk should take a deep breath and relax – there remains plenty of room to grow New Zealand exports of high quality and sustainably produced dairy products, including infant formula, to China. They'll be drinking our milk there for some time to come.
This isn't the first time (and will likely not be the last) that the Chinese have moved to tighten control over the domestic market for infant formula. Securing its food supply is a key concern for the Chinese government which has long held fast to the concept of domestic "food security" whereby a certain volume of essential foodstuffs need to be produced at home (New Zealand, on the other hand, contends that food security is assured by open and stable global trade).
As a result of the melamine scandal that rocked China 11 years ago, China placed limits in 2018 on the number and types of formula that could be sold in China. This led to a significant shrinking of the number of New Zealand suppliers doing business there. Other New Zealand exporters including A2 and Fonterra have continued to trade and Chinese consumers have responded very well with New Zealand products holding small, but growing market shares. Other international competitors like Nestlé and Danone hold larger shares and all are competing against Chinese companies which, while eager to expand their business, still have trouble convincing consumers (particularly Chinese 'tiger Mums') about the quality of their products.
Whenever I visit supermarkets in China, the managers invariably tell me they would like to sell more New Zealand milk products. For New Zealand to hold a commanding share in any product category of such a large and complex market as China is no simple task (although Fonterra manages it with mozzarella toppings on pizza). Nor do we necessarily need to do so to continue to grow our exports. We can develop highly profitable market niches by concentrating at the upper end of the market and building on our reputation for clean, safe and sustainable products.
Some may ask how the Chinese government under our free trade agreement can make these sorts of changes. The FTA means China can't arbitrarily stop the flow of exports, nor did they do so in 2018. But when it comes to the rules applied to the trade, it's not so straightforward. China (and New Zealand for that matter) have considerable scope, for example, to apply rules for public health reasons. This is common to all the FTAs New Zealand has signed and is one of the ways which the right to regulate in the national interest is maintained, despite what those nay-sayers say about TPP. The rules China applied earlier to control the infant formula market could be justified under these provisions. The current policy moves are different – they're focused more on growing the domestic industry and, for the time being, are largely aspirational even if the intent is pretty clear. New Zealand officials will be watching this space closely, but any devil is likely to be in the detail.
What else does this intended action on the part of the Chinese government tell us? It tells us loudly and clearly that we can't take this important market for granted. Not only do we need to be alert to what's on the mind of Chinese regulators and policymakers, but we also need to invest in a deeper understanding of the Chinese system. That's why in recent years, government agencies like MFAT and MPI have increased staff numbers at the Beijing Embassy. This investment is a hedge against rapid policy changes that might impact our interests.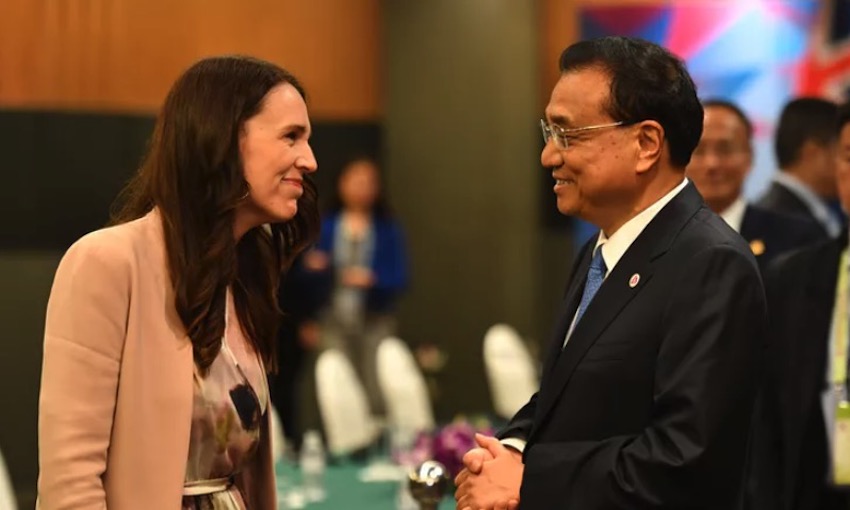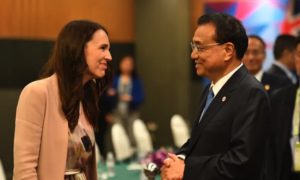 PRIME MINISTER JACINDA ARDERN MEETING WITH THE PREMIER OF THE STATE COUNCIL OF THE PEOPLE'S REPUBLIC OF CHINA LI KEQIANG DURING LAST YEAR'S ASEAN SUMMIT. IMAGE: MICK TSIKAS, CC BY-ND
We also need the right political relationship with China, as was clearly demonstrated by Prime Minister Jacinda Ardern's recent visit to Beijing. The prime minister was not there simply to promote trade interests although inevitably, that was a major focus. She was there to advance the relationship across the board. The Chinese have told us for some time that the traffic can't all be one way – in exchange for the considerable economic opportunities they're offering us, they're looking for partnerships in a range of areas, including, climate change co-operation, innovation, science, technology and – as I keep saying (but is anyone listening?) – Belt and Road.
It's not rocket science. If we want China to listen to us, we need to listen to them too. The challenge for New Zealand, with its different political system, is to manage all this in a way which meets not just our economic interests, but also our values. This means that there are likely to be disagreements from time to time, but as the prime minister has said, we need to work to make sure they do not define the relationship.
The Chinese are also looking for one other thing – a level playing field for their business interests in New Zealand. While this can now be interpreted as a codeword for Huawei's continuing involvement in our market, it is ironically exactly what New Zealand wants for its business interests in China. Both China and New Zealand have legitimate "security" interests to protect and both of us need to do so in the spirit of partnership and within the framework of the FTA rules.
So away from the headlines it's business as usual for New Zealand infant formula exports to China where the market continues to grow. Chinese consumers want to buy what we have to sell. If we keep meeting their needs, Miss Muffet can continue sitting calmly.
* Disclaimer: Stephen Jacobi holds shares in A2 Milk Company.