Air NZ eyes new China route
Air New Zealand has been assessing a number of Chinese cities as potential destinations, including Chengdu, which is rumoured to become its next new route.
The airline's Shanghai-based regional manager for Asia, Scott Carr, wouldn't confirm or deny speculation about a Chengdu service, but said: "There will probably be some news coming in the next couple of days about that."
The Centre for Aviation reported last month that representatives of the carrier and New Zealand Government had met with Chengdu's vice-mayor to discuss a direct flight between the capital of the southwestern Sichuan province and Auckland.
Should it go ahead, the route – at 10,505km – would be slightly longer than Auckland to Los Angeles, according to the report.
Air New Zealand already has daily flights to Shanghai, while Air China operates a Beijing to Auckland service in alliance with the Kiwi carrier.
The Auckland-based airline has recently announced new services to two other Asian destinations – Vietnam's Ho Chi Minh City and Manila in the Philippines.
In addition to Chengdu, Carr said Air New Zealand had been eyeing Chinese cities including Chongqing, Wuhan, Wenzhou and Shenzhen.
"Clearly Chengdu is a massive catchment area and there is a lot going on there in the aviation space," he told the Business Herald at the airline's Shanghai office.
Carr said Air New Zealand had been operating the Shanghai service for 10 years and it had only recently become profitable.
"Chengdu feels like Shanghai 15 years ago," he said. "It doesn't feel like it's quite at the stage where you can go, 'That's a market that we want to be in'."
Carr said the airline, like many other New Zealand companies, was focussing on increasing value rather than volume in China.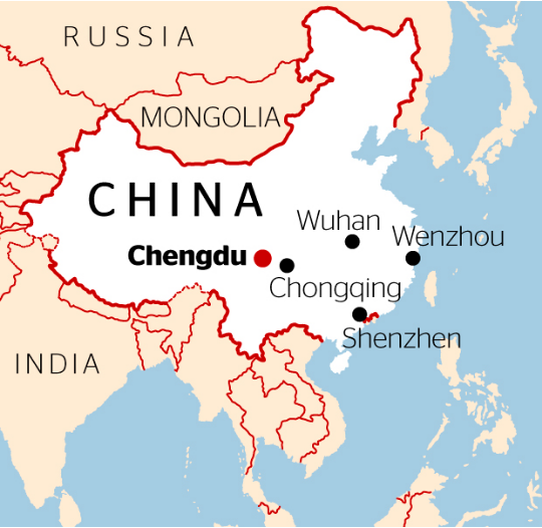 "Chengdu, at the moment, looks like a volume play," he said. "However the announcements go in the next couple of days, you might draw your own conclusions."
Carr said Shanghai was the greatest immediate opportunity and there was scope to further increase the number of flights it operated to the city, although accessing "slots" at Pudong International Airport was challenging.
"We now have a competitor on Shanghai [China Eastern] and they are daily as well and yet the market has absorbed that level of growth," he said. "You kind of go, 'How much more is there?'"
Air New Zealand, he added, was positioning itself as a more premium offering than its China-based rivals.
"It's brutal out there, to be fair," Carr said. "There's been some pretty aggressive pricing – we've managed to keep ourselves a little bit above that."
The low season was particularly challenging.
"A year ago today there would have been maybe 17 flights a week out of China to New Zealand – today there are 35 and it's low season," Carr said.
"I think we'll find our way through low season better than most. I suspect some of those [competitors] are going to be hit with some fairly lightly loaded flights in the coming months."
With China's economic growth slowing and concerns rising about the country's debt levels, he said it was important to listen to the "macro noise".
But the focus had to stay on the business.
"Then you get down to your customers and provided you understand where they fit within this macro-economic story, and their wealth position, then you can still execute," Carr said.
This article originally appeared in the New Zealand Herald and was written by Christopher Adams, recipient of the 2016 New Zealand China Council Media Award.