China's investment flows into New Zealand make up 6.8% of all foreign investment: NZCC Report
This article was originally published at interest.co.nz. You can read it here.
The New Zealand China Council has analysed the substantial direct investment coming to New Zealand from China, showing that Chinese companies are being attracted by the FTA, our stable environment, and investor-friendly tax regime. The following is extracted from the Council report, Fostering Growth.
As Chinese companies move offshore, they are choosing New Zealand as an investment destination, taking advantage of our stable economic and political environment, favourable regulatory environment and investor-friendly tax policies – including the lack of a capital gains tax.
New Zealand and China have seen a large increase in our two way trading relationship. In the last five years or so we have also seen a huge expansion in the bilateral investment relationship. A big factor in the growth of Chinese investment in New Zealand over the last decade has been China's 'Going out' policy, which encourages Chinese companies to invest offshore.
Part of the interest in investing in New Zealand has also been driven by the Free Trade Agreement which came into force in 2008 – China's first FTA with a developed economy. Almost all of the phasing out of tariffs has now come into effect, further increasing the attraction of New Zealand as an investment destination, particularly in the primary sector.
In 2010 Prime Minister John Key and then Chinese Premier Wen Jiabao set a target of $20 billion in two-way goods trade by 2015.
This target looked to be firmly on track until the drastic fall in global dairy prices which has led to a steep decline in the value of New Zealand merchandise exports to China. Global dairy prices are not expected to recover until mid-2016. In March 2014, Key and current President Xi Jinping set a new goal of achieving $30 billion in two-way trade by 2020.
In the last few years, the increase in Chinese investment into New Zealand has been extraordinary. From a low base, China's share of New Zealand's FDI stock has grown to 6.2%. This is a 160% increase since 2011.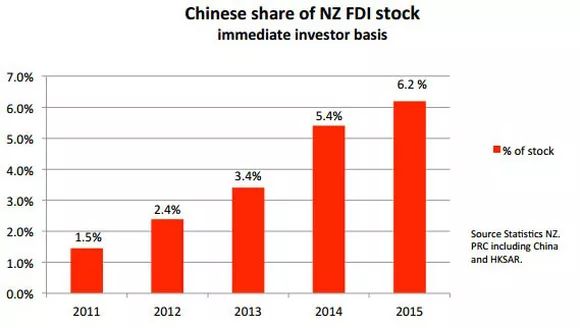 Since 2011, FDI from the PRC (including HKSAR) has gone from NZ$1.1 billion to NZ$5.3 billion, an increase of nearly 400%, or on average growth of nearly NZ $1 billion a year. When measuring FDI on an immediate investor basis, the level of investment from HKSAR is quite striking.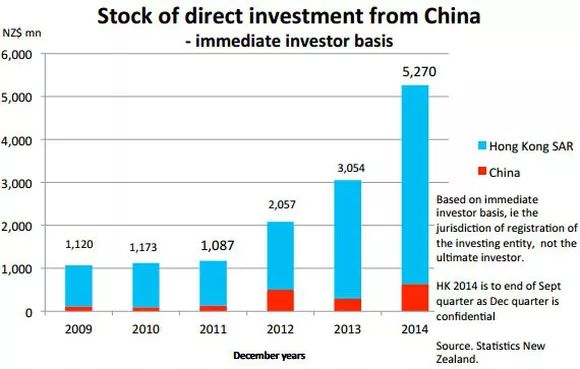 However, the actual level of direct investment from China is much higher. Data compiled by New Zealand Trade & Enterprise reveals that most Chinese investment in New Zealand is from mainland investors with companies registered in Hong Kong, Singapore, Cayman Islands, British Virgin Islands and other tax favourable territories. When also taking into account direct investments where Chinese companies are the ultimate investor, the total is much closer to NZ$7 billion. For example, in 2012 when Haier completed its purchase of New Zealand's Fisher and Paykel Appliances the New Zealand Overseas Investment Office (OIO) reported that the NZ$742 million transaction was made through Haier (Singapore) Management Holding Co Pte Ltd, a 100% owned subsidiary of the Haier Group Corporation. This investment was reflected in New Zealand's FDI statistics as being from Singapore.
A feature of Chinese FDI in New Zealand is the diverse range of sectors which have received investment from Chinese investors. The largest sector is infrastructure and utilities, accounting for more than one-third of announced Chinese investments. Some examples: in 2014 Beijing Capital Group acquired New Zealand's largest waste management company, for NZ$950 million. In 2008, Hong-Kong based Cheung Kong Infrastructure bought the Wellington Electricity Company for $785 million and in 2012 acquired New Zealand's second largest waste management company, Envirowaste, for NZ$490 million.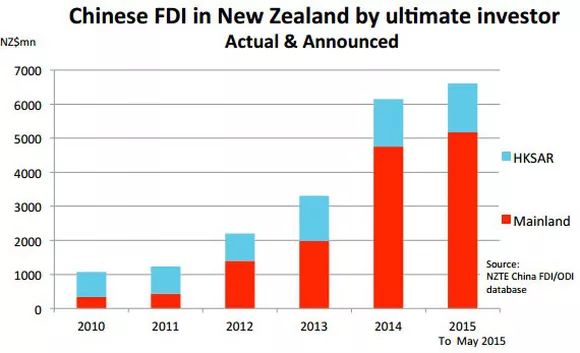 Chinese investments in New Zealand's primary industries and food processing make up the second largest sector. China is the largest foreign investor in New Zealand's dairy sector with NZ$800 million in current investments and a further NZ$700 million in announced projects. Most of China's largest dairy companies are building a stake in the New Zealand dairy sector: many of these are large greenfield projects.

In November 2014 Yili opened a NZ$214 million processing facility in the South Island and announced a $400 million expansion programme for the next five years. In November 2015 Mengniu-controlled Yashili will formally open a NZ$212 million infant formula plant in the Waikato region of the North Island. Both the Yili and Mengniu invested ventures are wholly Chinese owned. In addition, Shanghai Bright Dairy has a 39 percent stake in South Island infant formula manufacturer Synlait, which has the largest infant formula plant in New Zealand.
By 2016, Beijing Sanyuan's Baxy icecream subsidiary will start producing icecream for the China market from Hauraki in the North Island. Shanghai Pengxin has invested in a number of farms in both the North Island and South Island as a base for developing new products for exporting new dairy products to the Chinese market.
As mentioned earlier, Haier owns Fisher & Paykel Appliances, one of New Zealand largest manufacturing companies, with a total investment of around NZ$1 billion. In the last couple of years New Zealand has also seen significant new Chinese investments into the tourism sector, taking advantage of the rapid increase in Chinese visitors to our shores. Another new sector of interest has been the finance sector. As noted above, three of China's largest banks opened New Zealand subsidiaries in 2014. A further promising area for cooperation is in the high technology sector. Earlier in 2015, Shenzhen-based KuangChi Science took a controlling stake in Martin Aircraft which is aiming to be the world's first to market a commercial jetpack as a first responder vehicle for emergency services.
Another new area of interest has been the cultural services sector. In June 2015, Dalian Wanda acquired Hoyts, New Zealand'second largest cinema chain, as part of the purchase of the Australasian Hoyts Group. (Hoyts had only recently been acquired by Sun Xishuang of the Dalian Yifang group, in December 2014.)
New Zealand is a very open economy but also a relatively small economy. China's annual increase in its ODI spend globally is equivalent to half the size of New Zealand's US$200 billion economy. There is also a huge difference in the scale of our companies. New Zealand's largest company, Fonterra, a dairy cooperative, has annual sales of NZ$20 billion, while Chinese companies like Alibaba are worth more than the annual output of the New Zealand economy.
New Zealand's regulatory criteria for foreign investment are intended to ensure that foreign investors in large projects and in farming are suitably qualified and of the highest integrity. The primary sector is the pillar of the New Zealand economy and particularly its export sector. All projects above NZ$100 million and all investments into rural land require the prior approval of the Overseas Investment Office. The process is transparent and more than 99% of applications to date have been approved. The large increase in Chinese investment indicates that the OIO process has not been proven to hinder investment.
New Zealand remains, as it always has been, a net importer of capital. China now has one of the largest global pools of capital available to invest. With the FTA providing a sound framework for investment, it is not unexpected that Chinese enterprises are showing increasing interest in investing in New Zealand (as indeed they are doing elsewhere around the world).